Summer is the time to be outdoors in Oregon, with far more activities to take part in during the warmer months. Many water -sports and -activities are not available year-round so you want to make a plan to enjoy your summer to the fullest. Whether you live here, or want to visit, there's still a couple months left so get out there and relish in one of the most diverse and beautiful landscapes in the country!
People visit from all over to pursue their outdoorsmanship dreams and ambitions, and to marvel at its beauty. Like any adventure, it's essential to learn which locations are best suited for your preferences and skill-level, and what adventure gear and apparel to use. The last thing anyone wants to do is plan a trip only to find out they're missing crucial gear like their hat or rashguard, or that a park is closed at a specific time.
Gear Up & Go Outdoors
From extreme whitewater rafting to serene standup paddle boarding, a short sleeve performance rashguard will be your best friend along the way. It's a million times better than wearing a cotton t- shirt, which will stick to your body and leave you soggy. For the same reason, you don't want to wear jeans or athletic shorts, but instead something ultra-soft and quick dry, such as Watermen's amphibious compression shorts for men. Have you ever walked a while in a wet swimsuit? Not fun. Quick drying workout shorts are a must since even a swimsuit can cause chaffing in susceptible areas like your groin, armpits, neck and knees. In addition to preventing rashes, wearing quick dry compression shorts offers some extra protection from skin abrasions as well as warmth in the cold temps.
Don't underestimate how beneficial a proper extra layer around your core and upper-legs is to fight a chilly breeze and rash-inducing moisture. Once you're equipped with a rash guard for your upper body, and some sort of aquatic compression shorts for your lower, then you're ready to enjoy the best summer outdoors activities in the beautiful state of Oregon.
Braving River Rapids
Southern Oregon is home to the notorious Rogue River which lives up to its name via hard core whitewater rapids. This is not for the faint of heart; only go with professionals or experienced whitewater rafters. There are beginner options to take a nice easy rapid and then there are the more adventurous and dangerous rapids. Camping at a few sites while traveling the river is a favorite for those that love outdoor adventures. The North Umpqua and Upper Klamath rivers are two other whitewater favorites in Southern Oregon. For family-friendly fun, they can conveniently do a day trip, or even a camping trip along the river if they start at the proper place to hit the family-friendly spots.
Whitewater rafting tour companies will provide the helmets and life jackets. What you should be more concerned with is what kind of apparel you wear and waterproofing your camera or phone. It's a lot more fun to come home with photos and videos than rashes and cuts.
Hike to a Secluded Lake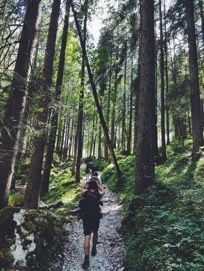 Going for a hike to reach a secluded lake not only allows you to reach new scenery and vistas at higher elevations, but also to leave crowds behind for revitalizing quiet time. A secluded lake is perfect for a picnic with a friend or even just some time alone to get away from the hustle and bustle of city life.
Multi-purpose gear makes activities like this much more efficient, which is extra nice on short adventures. Yet whether camping or day-tripping, you want apparel that's lightweight, extra comfortable and easily packable. For women, a super-comfort racerback tanktop is a staple of quality adventure apparel, which is surprisingly durable and can take the rugged use. To avoid carrying a change of clothes, you simply need undergarments and workout shorts that dry fast. Otherwise the return hike soaking wet will be a nightmare, regardless if you went swimming for refreshment or exercise.
Paddle Boarding and Kiteboarding
Paddle boarding and kiteboarding are both extremely popular. Between the coastline and plethora of lakes/rivers, there's no shortage of areas to enjoy these water sports. Paddle boarding is unique because you can cater it to exactly what you want; it can be as serene and relaxing, or as intensely active as you want.If you really push your pace, it's a great upper body and core workout.
The Hood River is a top destination for kiteboarding since the wind is constantly whipping around the river. Note to beginners – the wind here is so consistently strong it's advised to stick with a smaller kite. With the right rashguard top and quick-dry compression shorts you'll be able to go much farther and longer on the water.
Taking A Long Swim Down the Coast
Swimming is one of the best low-impact workouts you can do, offering great respiratory and cardiovascular benefits. Fortunately Oregon has beautiful coastline to swim along. A beach run-swim-run is a great way to train for a triathlon. Caution, the coastal waters are often rough and cold so go with another person for safety. If you're going on this kind of swim, grab a wetsuit since the ocean water temperature usually stays between 55 and 60 degrees. In addition to the thermal benefits, a wetsuit's buoyancy will help swimming in chilly waters. Make sure you're comfortable treading water and know how to swim out of a rip current (don't go directly to shore!).
Take the time to plan out some activities for the remaining months of summer before it becomes too cold to enjoy the water and abundance of activities the PNW has to offer. Remember, the proper apparel is key to enjoying your choice activities as much as possible. Oregon is a beautiful state so take advantage during the warmer months.