The Portland Trail Blazers have been horrible on the defensive end this season. This is no secret, they rank second to last in defensive rating – which measures points allowed per 100 possessions. The only team worse than them thus far is Thursday night's opponent, the Los Angeles Lakers. This team can't continue at this pace. There are multiple factors that have gone into their poor defensive effort. At this point change needs to take place, but maybe we're already seeing that.
Since Christmas, the Blazers hold a 5th ranked defensive rating of 101.9. That's a vast improvement from their 109.9 season rating. A few things are happening here. One, Damian Lillard is out of the lineup. Two, Al-Farouq Aminu, arguably their best defender, is finally looking healthy from his early season injury issues. Third, the Blazers have adapted defensively, trying new tactics in blitzing and hedging more off pick-and-rolls. All of these things have played a role in an improved defensive attack.
However, without Lillard in the lineup the Blazers have struggled offensively. Since Lillard has been sidelined, their offensive rating has been 101.7, which is a 5 point drop from their 107 season rating. They need Lillard back in the lineup. They miss his presence offensively. Let's just hope that they can continue on their recent defensive trend once Lillard returns.
While looking up defensive stats for Lillard and CJ McCollum on the court at the same time, I came across an alarming stat. Take a look at the chart below (from NBA.com's John Schuhmann), the Blazers hold a 113.3 defensive rating with both Lillard and McCollum on the floor at the same time. With Lillard on the court and McCollum off of the court, their defense is nearly just as bad at 112.3. Look, I'm not going to go all George Karl here and say Lillard is at full blame, but defensively he is a major part of the problem. A little more so than CJ McCollum is. As you can see by this chart, the Blazers defensive rating is a little better at 106.6 with McCollum in the game without Lillard.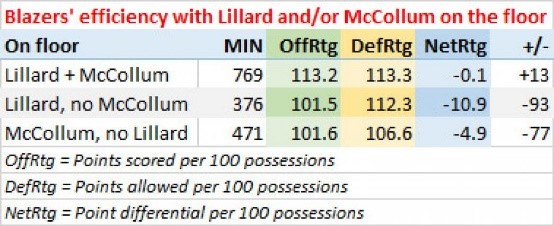 Not saying that means Portland should trade Lillard. The Blazers need to find a way to remain effective defensively once Lillard rejoins McCollum and the rest of the lineup. Their new look defense and having a healthy Aminu bodes well for them. If Lillard returns and their defense slips back to those 113 point defensive rating averages, then the Blazers are left with no choice but to take a hard look at trade offers for everyone involved.
If change needs to happen, what trade(s) would work best for Portland? One thought process is that Dame and CJ are too small and too bad defensively to work together long term. They're a great offensive duo, but defensively it doesn't work. One has to go. The Blazers could add more length into the starting lineup by inserting Allen Crabbe for either Lillard as they have with his absence, or they could trade CJ and pair Lillard with Crabbe. Lillard isn't going anywhere. He is the heart and soul of the team. His leadership and offensive skill set is far too valuable to this team to trade him.
So then you look at McCollum. The Blazers needs a top big man. One that can protect the paint, while also providing an offensive presence. If Portland is able to grab a top big man, CJ is their best chance in doing so. Then again, McCollum is still on his rookie deal until next season, which creates some trouble at the moment in making a deal that works financially for big men that would be intriguing to go after like DeMarcus Cousins, Hassaan Whiteside, or Greg Monroe – all of whom have bigger contracts. You would have to involve some sort of combination of Evan Turner, Moe Harkless, Meyers Leonard, or Aminu into those deals to try and match contracts, but then how much are willing to give up for those guys? I don't expect Neil Olshey to make a blockbuster trade like this at the deadline, but there is a guy that I love him to take a hard look at.
The Atlanta Hawks are reportedly listening to offers for Paul Millsap. This is an option that the Blazers should absolutely explore. Atlanta would be all ears if Portland started with a package around CJ, but Millsap has an expiring contract, and without a guarantee that he would re-sign, giving up someone like CJ for him would be too risky. Olshey is opportunistic when it comes to trades. He prefers low risk high reward. He would have to get a deal that he couldn't refuse. Let's say the Hawks found interest in some sort of combination of Evan Turner, Moe Harkless, Aminu, Noah Vonleh, Meyers Leonard or draft picks. That would be worth examining.
If Atlanta was willing to throw in sharp-shooting Kyle Korver, than I would look at adding Crabbe to the mix as well. The problem I have with giving up Crabbe, is that you will need someone who can give you that scoring punch off the bench in return. Although Crabbe is much better defensively than Korver, Korver still fits that role of a scorer off the bench, and it's well worth the improved starting lineup. Millsap isn't quite the rim protector they would like to have but he would still help on the defensive side and greatly help push the offense to another level.
Another name floating around is Nerlens Noel. The Blazers could improve their interior defense with a rim protector like Noel. Having that rim protector could allow the Blazers guards to be more aggressive along the perimeter knowing that they have someone back there who can block and/or alter shots. The only trade that makes since for both the 76ers and Blazers is Allen Crabbe for Noel. 76ers have the money to take on Crabbe's contract and are in need of a perimeter scorer. I'm not a fan of the trade. The Blazers would be giving away their best perimeter defender and their number 1 scoring option off of the bench for a guy that has had injury issues in his young career and is only playing 10 minutes a game for the worst team in the league.
Turner is the guy I want to see go the most. Turner doesn't fit in with this team. It shows in his plus/minus, his offensive ratings, and it's noticeable when watching. Turner has one of the worst plus/minus's in the NBA, in fact his is ranked 440th with a -6.1. On the bright side Dirk Nowitzki (-10.5) is one of only 7 players worse than him this year. His offensive rating (100.4) is the second worst on the team, behind only Noah Vonleh. Whenever I watch Turner have the ball, I'm doing just as much as his teammates on the court. They tend to all sit around and watch as he does his thing. He needs the ball in his hands to create, but when he does that the offense becomes stagnant. He isn't on the same page as his teammates a lot of the time.
The dream trade is Millsap for a package deal involving Turner, Leonard, and a draft pick. Who says no?
NBA Trade deadline is February 23, 2017. The Blazers have time to figure out if this team can improve enough defensively to not make harsh roster decisions such as trading Crabbe or McCollum for a solid big man.
*Crabbe, Harkless, and Leonard cannot be traded until January 15, 2017.*