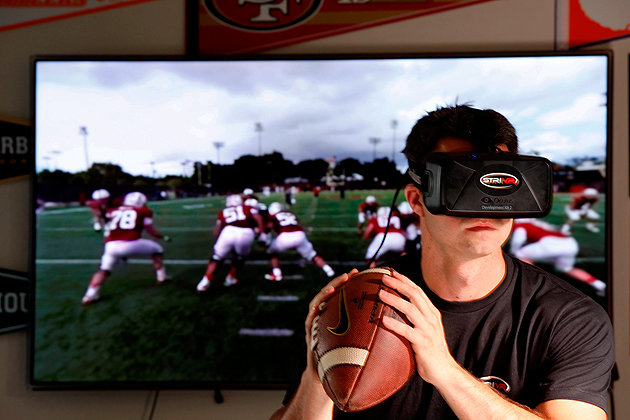 Let's imagine that you're a quarterback. You walk up to the front line, take a snap, and the defense swarms you like a pack of hungry predators. You look for your two best wide receivers, but the corners have them both covered. You look for your slot receiver -darn- he's covered too. Just as you start looking for you running back to try and gain some type of yardage, you're sacked. Taking a crushing blow to the ribs. You get up, but you don't feel any pain.
Well, that's because you were never technically hit. Welcome to the digital age and the future of American football training: virtual reality.
Five months ago, the University of Washington announced that they were going to incorporate virtual reality into their computer gaming system on campus. While the news might not have had a major impact on the football program, it sparked interest throughout the NCAA. Currently, there are about a dozen schools, including Stanford, Washington, Utah, Arkansas and Kansas State, that are working with STRIVR Labs to make this transition possible.
Nonetheless, skeptics still remain, arguing against all the hype around virtual reality. Viewing it as a new piece of cutting edge technology that won't work.
However, the coaches who have embraced virtual reality and incorporated it into their practices and game day preparations have reported being, "blown away" by its abilities.
How VR Has Transformed the Game of Football
Although most systems require users to slide their Galaxies into a VR gear headset in order for them to be immersed into the virtual world, the NCAA has adopted a new method. This method uses the same type of processor found in a computer, but is still small enough to place in your pocket like a phone.
Virtual reality is, without a doubt, poised to help athletes in a variety of ways. As a training tool, it allows players to be subjected to the intensity of the game in one film without studying all 22 tapes like most teams currently do. This is what allows the athletes to run through previous plays using the VR headset, which can be helpful because they'll be able to see what mistakes they made throughout the simulated game. This technology truly helps quarterbacks more than any other position since they're able to see the defense breakdown in real time and find open pockets within the defense to hit their open receiver.
Another great use for virtual reality is helping a player remain in the game during their recovery process. While these individual players can't make it onto the football field, they can still keep themselves immersed in the game and on their toes. This is where virtual reality could begin to come in handy when it comes to training athletes.
VR is More Than a Game
The NCAA has begun looking at virtual reality as more than just a physical and mental game preparation tool. With countless young players who regularly find themselves experiencing constant change, the NCAA has started relying on VR more as a training method rather than a video game students can simply play. The NCAA is in the beginning stages of using virtual reality to help teach and assist college athletes about different forms of racism, harassment, and prevention. The belief behind this is that, since racism and harassment are issues that still pervade, having players walk in someone else's shoes will deeply impact their thinking process. This could potentially prevent legal problems from happening later on down the road.
Although this can't stop all problems from occurring, the league believes if they can help solve some, they have done something beneficial to the game we all love so much.
Virtual Reality for Screaming Fans
Virtual reality will soon find its way beyond preparing players. Fans will soon have their chance to experience the game of football like never before as the NCAA, along with the NFL, claims that the future of watching football is in the virtual world. How though? It's not as complex as it sounds. A premium seat in the first row of the stadium may be purchased by a virtual reality pioneer who's live streaming the game to others who have chosen to experience it right from home. The use of virtual reality systems might indeed be expensive, but surely it can't be nearly as expensive as a front row seat in a championship game, right? With cable companies starting to invest more and more in the industry, don't be surprised if leagues start broadcasting games in virtual reality with the addition of a headset and mobile device.
Many aspects of the game are scheduled to change with the increased use of VR headsets, and these changes are likely to be positive ones. Some changes will result in better gameplay through more preparation, improved training, better use of injury downtime, and possibly minimize the amount of the injuries players experience throughout the season. Moving forward, coaches have been waiting for this kind of technology for decades, and with the VR market set to make its way to  $30 billion by 2020, it's no wonder why teams are starting to take an interest. Technology's amazing, isn't it?